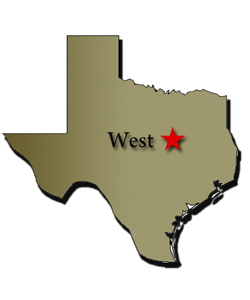 We are pleased to announce that West is making huge strides from the Fertilizer plant explosion in April of 2013. Even though we still have three Case Managers (there were originally eight), one data manager and a Disaster Response Assistant still working in West on behalf of the Central Texas United Methodist Conference we are no longer in need of volunteers to help rebuild. Our Case Managers and staff still continue to assist the people of West with medical bills, the finish out of their homes and other issues. We expect their work to be finished by this summer.
The remainder of work to be finished on the homes is being completed by contractors at the request of the West Long Term Recovery board to try and finish out the last few homes in a faster manner. West also still has to rebuild schools, infrastructure and streets, but needless to say, that is handled by the community. As soon as we have our final numbers, we will share with you the number of homes that you have helped rebuild and repair! You have done phenominal work!
Thank you, thank you, thank you for your tremendous service in the name of Christ and the Central Texas Conference and your churches!
If you have any questions regarding the West, Texas disaster or rebuilding, please contact Laraine Waughtal, CTC Coordinator of Disaster Response and UMVIM at larainewaughtal@ctcumc.org or 817.877.5222/800.460.8622.