by Vance Morton* 
The term "social media" – a term that was known and regularly used only by the bleeding edge fringe of technogeeks just a couple of years ago – has become a permanent resident in the lexicon of main stream America. Technology (and the tools it spawns) has a way of doing that. Think about it, three years ago if someone had suggested that you go "Google" something, you might've slapped them. So, while the term isn't all that new, what it means and how to effectively employ social media remains a mystery to many. In this installment of our Energizing and Equipping Church Social Media Strategies, let's take a step back and see if we can solve part of the mystery and dissolve part of the mystique that is social media and maybe even answer the question of, "How can I engage my church, our programs and our people in social media?"
T
he answer is that last question is easy…the only way to engage and be effective in social media is to participate - get out there and get involved. If you aren't in the game, you can't win. Of course, that advice can be associated with many of the questions and issues of the church as we make the changes necessary to succeed in this post-Christendom world and shift our focus outwardly to the needs of our communities and world outside the beautiful familiarity of our church sanctuaries.
And that's the whole point of this article – there is nothing new behind the popularity of social media, in fact, this "new" technology hasn't ushered in a new future as much as it has opened a portal to a beloved past – a past in which one-on-one connections and relationships ruled the day, and when neighbors knew each other's comings and goings as well as they knew their own (this difference is that today's neighborhood can be global in scope instead of a few blocks in size). Social media has reminded us that people long for and basically need personal connections – and if that type of relationship isn't square in the church's wheelhouse, then we are in the wrong business.
If done well, social media allows you and your church to make hundreds and potentially thousands of people feel as if you are speaking to and concerned with them personally all with a single blog post, Facebook update, Tweet or comment.
Here are Ten Commandments on how to get involved and win with social media. (Please note the lack of the word "the" in front of Ten Commandments as there are myriad other ways to engage - some of which we'll discuss in later installments in this series – and this is an ever-changing communications discipline.)
I. Content shalt forever be King of Communications
Nothing beats well-written, informative and entertaining content. It doesn't matter if it's a blog post, tweet, Facebook status updates, video, podcast, image, webinars, bulletin insert, etc. If
your content isn't engaging, memorable and informative, you might as well have just sent it via smoke signal. Some of the other benefits to good content are:
Improved search engine placement.

Google loves frequently updated content;

Thought leadership.

Content helps to position you as a knowledgeable and valued expert;

More effective engagement.

Content targeted to the needs of those reading your posts, updates and tweets will keep them coming back;

Becomes a sharable asset.

Content created with some type of social media layer — social bookmarks, Facebook Like, "Tweet This" – can be shared by fans and followers. In fact, no content should be created that does not have social sharing capabilities associated with it;

You move up the mind-

share food chain

– with a bazillion other social media options, the more entertaining, pertinent and engaging your content, the more loyal readers will be to at least glance at your latest post(s).



II. Thou shalt keep thy content relevant and timely
Social media is based on conversations, and conversations must be kept fresh and alive or they quickly become easily ignored white noise. If a visitor or church member comes to your page and sees that it hasn't been updated in a few days (that's days, not weeks), the questions and comments from
readers haven't been replied to and/or (shudder) the content is new but the topic is "so last Tuesday" then you run the real risk of never seeing that visitor again. Use discussions and questions to learn more about your supporters, volunteers and donors, Remember, the more you know about your most supportive people the more they can help you to your goals and to build your church social media network and in so doing move closer to engaging in your cause. Some other things to consider include:
Make sure your message is relevant to what's happening at the moment and support the overall message and mission of your church.

Engage with content that will attract and retain fans, followers and supporters.

Be helpful – if a supporter or a new face asks a question or comments, respond quickly, and give thought to the answer. Remember for everyone who sends a question, 100 probably thought about asking, and did not reply, they will read the answer carefully!  

When people take the time to reach out and share, return the favor with a helpful and thoughtful response.

Provide value. From the links and content you share, to the questions you ask of followers, always ask yourself "would this be something your supporters would find of value."



III. Thou shalt be authentic and transparent with your content
It may seem trite, but the authenticity and transparency of your message remains the cornerstones of being effective in the social media paradigm. Be real. Be open. Be honest. Admit mistakes when you make them. And above all, be yourself. Don't attempt to portray your church as something it isn't, or even what you aspire to be. That's not to say you shouldn't have an identity tied to your church, just make sure it is authentic. If your idea of a contemporary worship service is to have KTLY on in the Narthex as people walk in only to ask them to turn in their Cokesbury Hymnals and open worship with "The Old Rugged Cross**"…well, I'm confident you see where I'm going with this.
IV. Thou shalt be creative (create creatively).
That is what people want – whether they are longtime church members or Web visitors. Readers want to see transparency. They want to see authenticity. They want to see your congregation reaching out—and having fun. And they want to see what makes your congregation different from all the others. So take risks. Some things will work and some things won't but it will be evident that you are willing to try new things and share new ideas.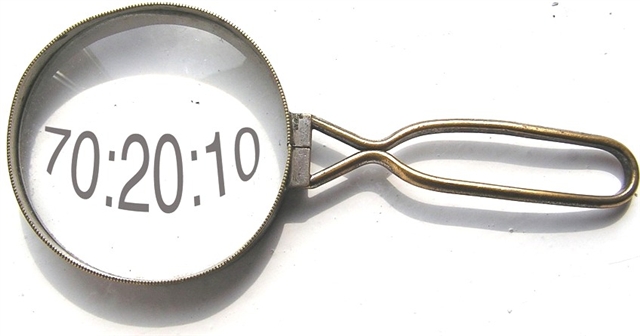 V. Honor the rule of 70-20-10.
When employing social media, you need to have a mix of messages to keep all of your fans and followers engaged, informed and interested. The 70-20-10 rule is a good guideline.
70% of the time it's important to share content that adds value to the community as a whole.

20% of the time you should engage your immediate church community and your cause with questions and advice.

10% of the time it's cool to blatantly self-promote your cause.



VI. Thou shalt set goals and keep to thy strategies.
As in any form of communication, you must know what you want to say before you can effectively share your message. Make sure that the message you want to send is clear and then work on how and how often you want to say it. Some tips for sharing that message include…
Set aside time to manage your social media tools for churches, post at set times of the day and week and keep to that schedule

Create a content calendar, decide what your overall message is and when it will be most effective and keep to that schedule

Reach out to others in your church community by commenting, sharing and re-Tweeting, then ask them to do the same for your church and your social media network.

Always have a "call to action" in your communications – something readers can do to actively participate and engage in this conversation.



VII. Thou shalt not make social media a "golden calf" of communications.
Social media is just one of myriad communication channels at your disposal. It's not a panacea nor should it be considered a replacement for every other form of outreach and messaging. Social media should be one part of a multi-channel communications strategy.
VIII. Thou shalt not attempt to be on every social network available.
It's impossible to maintain an active presence on every social network and you don't have to. Spend some time and find the ones that are visited by those you most want to reach and then join those.
IX. Thou shalt upload images and then upload some more.
Photos and videos are paramount in capturing the attention of fans, followers and those just visiting your sites.
 Make sure they are quality photographs that convey joy, peace, healing and community and also showcase your congregation in action and having fun. And don't be afraid of photos or videos that are on the silly side. Let's bust up the grim faced, frozen chosen image and show the world the joy and excitement of being a Christian. Grab your video camera and interview people in your congregation. Is there a better way to introduce what your church is all about than seeing and hearing it from the smiling faces of your congregation?
X. Thou shalt explore social media at least 30 minutes per week.
Grab your coffee, lock yourself in your office and Google something. If you really want to go nuts, look up "Google" on Wikipedia. Talk about a great ROI (return on investment). Find out what is hot out in social media. See what's trending on Twitter and then talk about it.
If you have questions, comments or other tips to share, please contact
CTC_Communications
and we'll try to help and/or post up your thoughts in an upcoming post in this series. Speaking of this series, next time we'll discuss the vital importance of creating and using a social media policy.

*Vance is the Director of Communications & IT for the Central Texas Conference. 
vance@ctcumc.org
** Vance happens to love the hymn "The Old Rugged Cross," is most pleased to when the opportunity to sing it arises and meant no disrespect to its power, message and tradition in the reference above.