by Rev. Laraine Waughtal, CTC Disaster Response Coordinator – 9:50 p.m. Monday, May 20
Today we had 26 Early Response Team members on the ground (or on a roof) working to clear the debris field. I have been to a number of disaster zones now but this is one of the most dangerous I have seen. The F4 tornado did its damage destroying the homes and dreams of so many people. Trees were stripped and twisted and broken in ways you cannot imagine. Sharp tin which can cut you badly in a second is everywhere, not to mention all the nails and glass and other objects that cause harm. We have even seen a couple of snakes making a new home out of the debris.
We worked on a number of homes that suffered great damage and had debris piles higher than the home itself. Belongings from their homes and unknown neighbors littered the area. We are working hard to salvage those personal items. Crews worked long areas making homes and yards safer. We also helped Acton UMC clean up the community center they own in the Rancho Brazos area. Their building suffered a good bit of damage. Workers cleared up the site inside and out and made it safe. We are also using this place as a hub for our volunteers from which to deploy and to return for some rest.
Two women and a child pulled up to where we were working about mid-afternoon and asked, "Are you the Methodists? We were told you were the ones to ask for help." While that was quite a humbling and affirming question and statement, it isn't the first such experience. People have come up and talked to us and shared their stories and cried on our shoulders as we also shed tears with them. As we have done the work you see hope return to their eyes in receiving help and knowing there is a future. There will be a lot of need over the summer to help with repairs and rebuilding. This cleanup will continue for some time and many, many more stories will be shared and made during our time together.
Thank you for your prayers and donations to help to the people of affected by these storms. There is a tremendous need here. And, as we learned today as we heard and watched another tornado tragedy unfold in Moore, Oklahoma, this tornado season is nowhere close to over.
Please Do Not Send Recovery Teams to Rancho Brazos (or any of the areas affected by the Spring Storms) Yet
Update by Rev. Dawne Phillips* and Rev. Laraine Waughtal** - 4:45 p.m., Monday, May 20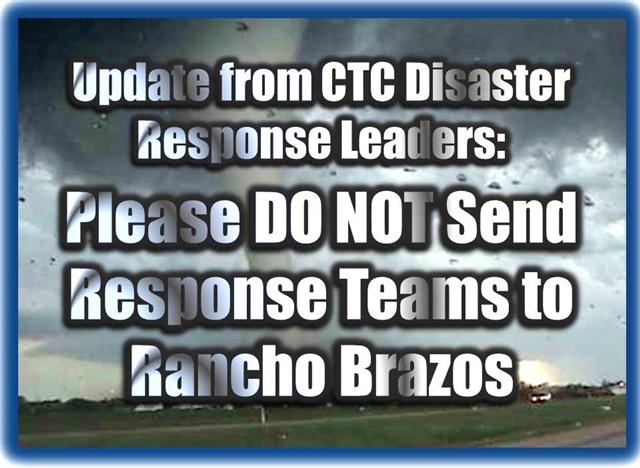 Even though the devastated Rancho Brazos area is open to the public, Central Texas Conference Disaster Response leadership is requesting that churches refrain from sending teams into the area at this time.
The situation on the ground is still extremely dangerous and the potential for injury is great. CTC Disaster Response Coordinator Rev. Laraine Waughtal advises that individuals without proper disaster response training not only put themselves at risk, but can cause immediate and long-term complications for homeowners by not appropriately following necessary procedures to make homes safe and secure, as well as adversely affect any future monetary assistance/settlements. In the long run. (and please remember that just like in West and during the wild fires of years past, this is a long process – a process in which we are very involved long after the news cameras have left and the world has moved on), this slows the response and recovery process and creates additional complications which will have to be corrected at a later date when volunteers are often not available to assist.
At this time, CTC-trained disaster responders are on the ground assessing the situation and handling emergency relief measures through appropriate protocol for disaster response. When it is advisable for churches to send Volunteer in Mission teams into the area, the CTC Center for Mission Support will advise churches through the conference website (ctcumc.org) and e-mail. Thank you for your compliance with our time-tested methods for ensuring the most appropriate immediate and long-term response as the Body of Christ.
*Dawne is the Director of Missions for the Central Texas Conference
**Laraine is the Disaster Response Coordinator for the Central Texas Conference.
Update – 5:15 a.m., Friday, May 17
Ken Apple from Waples UMC sent the photo to the right to the CTCSC (via North District Superintendent Dr. Ginger Bassford) with the following message: "
I have attached a picture of the weather from last night. This says better than I can how thankful we are that our Lord was watching over us."
Kens sentiment was echoed by many as the tales from those in the storm's path yesterday, and the images of the storm and the devastation poured across the internet and airwaves on Thursday. (While there are several good synopsis out there, The has an excellent running update complete with regularly updated video and other stories related to the storms.
One thing that the news outlets are reporting the Rev. Laraine Waughtal wanted to be sure to clear up is that while First UMC Granbury is serving as a place for folks to go and register with CERT for volunteers, this is just a registration site. No volunteers are needed on the ground at this time and officials are still asking for folks to stay out of the area. Laraine will register the Central Texas Conference as a whole with CERT and then coordinate our efforts, so there is no need for individuals to drive to Granbury and potentially be turned away.
The CTCSC also received the following from Patrick Turkett of Ovilla UMC yesterday. "Ovilla United Methodist Church has had a team of 15 working in Baldwin, LA all week at the Sager-Brown UMCOR Distribution Depot. We just received word from them that the distribution center and our Missions team have loaded up an UMCOR truck full of cleaning buckets and health kits from distribution and are now driving it from Baldwin, LA to Granbury." Those supplies should be on site and ready to help today.
Update from Dr. Ginger Bassford, North District Superintendent - 11:43 a.m., Thursday, May 16
Thank you so much for the prayers, calls, e-mails and texts. The North District has been hit pretty hard by the tornados of last evening. I have spoken with the pastor of First UMC Cleburne this morning who reported that the roof of the parsonage is gone, and many homes around it are completely demolished. There is significant damage in and around Cleburne. So far the word from Waples and Granbury proper is that there is damage, but not severe. However, the Acton / Rancho Brazos area was hit very hard.
As of about 10 this morning, the search and rescue teams are still in the area accounting for persons. No one is being allowed in the area. Acton UMC's community center at Rancho Brazos has sustained damage – some of the roof and gables are missing down to the rafters. Those who live in this area were some of the least likely to be insured or have a means of recovery. Please keep them in your prayers as well as the families of those who have lost their lives. We will keep you posted through the

CTC website

and the North District Facebook page as updates occur.
by Vance Morton* - 10:30 a.m., Thursday, May 16
There still isn't much new to report regarding any specific support needs for those affected by last night's storms, but we have heard from several folks wanting to know how to donate money to the relief efforts. As in the West Relief efforts, folks are encouraged to donate through their local church and noting "CTC Spring Storm Relief" in the memo line. You may also pay via PayPal (click the Spring Storm Relief Fund graphic to the right) and you may also send checks directly to the Central Texas Conference Service Center, Attn: CTC Disaster Relief, 464 Bailey Ave., Fort Worth, Texas, 76107. Please make those checks payable to CTC Disaster Relief and put Spring Storm Relief in the memo line if you wish to donate directly to those relief efforts. At this time there is still no call for any specific supplies or donations - though gift cards to building supply outlets or grocery/clothing stores are always welcome in these situations.

The United Methodist Committee on Relief (UMCOR)
is in regular contact with the Central Texas Annual Conference Disaster Response Coordinator Rev. Laraine Waughtal and both UMCOR and Laraine have reported in the last few minutes that volunteers are still not yet needed as emergency services and first responders still have much to do to complete their work before damage assessments can begin.
Please check back soon for an updates as they are avaialble.

by Vance Morton* - 10:25 p.m. Wednesday, May 15
Severe weather swept through the North Texas Wednesday evening. While there are reports of damage across many of the counties in the area, at the time of this posting, it appears that Hood County suffered the most severe damage as a tornado slammed into the area injuring dozens and causing widespread damage. CBS11 News is reporting that several area churches, including Granbury First UMC, are opening their doors as emergency shelters for area residents.
Kathy Jividen, a spokeswoman for the Hood County, Texas, sheriff's office said there were "multiple fatalities" in the wake of the storm. Authorities in Granbury reported the hardest hit area was the Rancho Brazos subdivision (southwest of Granbury) and adjoining areas along Lake Granbury, according to . Several news outlets are reporting severe damage in Hood County, that emergency responders are preparing for possible casualties in the area and that officials were sending school buses and helicopters to affected neighborhoods in and around Granbury to help with evacuations.
Of course, at this posting, details are still sparse and most are unconfirmed. Hood County is not the only area in the Central Texas Conference that has been affected; reports of flooding and damage in Cleburne and much of Johnston County are also being reported. At this time, six casualties have been confirmed and that number could climb because as many as 14 people are unaccounted for. At this point, reports of damage are still preliminary and sketchy – and most likely will be until the storms pass and daylight allows officials the opportunity to better survey of the area.
"I do know that DeCordova, Texas has been evacuated due to gas leaks and that searches are going on for people," reported , CTC Disaster Response Coordinator. "I know the people of the conference will want to help but I need to remind everyone that only appropriate response at this point of a disaster is to stay out of the way of emergency services and first responders."
, CTC Mission Experience Coordinator, echoed the call to remain patient and vigilant. "In disasters of any kind, we must wait for the professional emergency responders to contain the situation by securing the residents and other people in the affected area," Rev. Dobbins said.
The Central Texas Conference Service Center will monitor the situation and learn the extent of the damages via media outlets and other disaster response contacts in the affected area. Once the first responders have completed their work, then assessments will be done (just like we saw in the wake of the explosion tragedy in West, Texas). Once those assessments are completed we will then learn when other volunteers will be allowed in the affected areas to begin our response to this natural disaster.
"ERT members need to be on standby," said Rev. Waughtal. "There's little doubt that help will be needed for our trained chainsaw crews, with tarping and debris clean up. But not until they are out of the emergency stage."
Please join us in praying for everyone affected by tonight's storms. We will keep you updated as quickly as possible on any damage to our Central Texas Conference families, churches and communities as well as when you can help and how.
Vance is the director of Communications & IT for the Central Texas Conference UMC.