Checks should be made out to Central Texas Conference Disaster Response. Please put "The City of West" in the notes section of your check. Donations should be sent to:
The Central Texas Conference Communications team will continue to provide information about the explosion in West as it becomes available. Please bookmark and visit this page for updates. If you have information to share or questions regarding what's happening in West – particularly as it pertains to our Central Texas Conference family, please contact us at 817-877-5222 or . For questions specific to relief efforts – donations, volunteers, etc,. contact kg.
A Visit into Zones 1 and 2 Provides the First Glimpse of the Long-Term Recovery Project Ahead
an update from West by Laraine Waughtal, CTC Disaster Response Coordinator
10:45 p.m., April 23
- Today, I was invited to go with the Red Cross into some of the different "zones" surrounding the blast area. This was my first chance to see the damage firsthand, which allowed me and those with me the opportunity to better comprehend the extent of the damage caused by last Wednesdays massive explosion. Upon entering the zones, my heart ached for the families of the homes I saw that were so badly damaged. We've seen photos, but like in so many disaster situations, your mind just can't wrap around this type of devastation from looking at a picture or video – and we were not even in Zone 3 where officials report that many homes were completely destroyed.
The opening of these zones to us is only another in the many, many steps that it takes to prepare the affected area so that our volunteers (like many of you who have been so wonderfully patient and diligent with your prayers) can eventually get in and get to work. The zones remain off-limits to anyone other than Emergency officials. Assessments will begin of the homes next week, at which time we can begin to invite our trained and badged Early Response Teams to come. We appreciate everyone's patience as we continue to go through this process. Our Early Response teams continue to keep busy working the table at the disaster relief station on the outside of town, interviewing the clients to learn of their needs with their homes. Our workers are setting quite a standard for the other relief organizations as many people are wanting to visit at our table due to the care the United Methodist teams are giving to the community.
Please continue to monitor ctcumc.org for the latest information on volunteer opportunities in West, as well as and trainings coming to Central Texas in the next few weeks.
Another Day of listening, preparing, praying and waiting.
an update from West by Laraine Waughtal, CTC Disaster Response Coordinator
10 p.m., April 22
– Today has been another day of interviewing clients, listening to their stories and praying! One person shared with us how everyone was at home when the blast occurred and every window in the house was blown in towards them accept the one over the baby's bed!!! What a blessing. Every day we hear more and more stories as to how God was and is at work in West.
While there is plenty to keep us busy from before sunrise to beyond sundown, it is still pretty much an exercise of "hurry up and wait" when it comes to the recovery and rebuilding efforts. Even though the families are allowed to visit their homes in Zones 1 and 2, we still cannot go in to work. So we patiently wait and continue to prepare for our Early Response Teams to come by making arrangements with churches and finding storage to keep supplies. Today we were also blessed with a visit from the Central Texas Conference United Methodist Men. After receiving permission to come and deliver devotional books sent to them from the General Board of Global Missions, they delivered 200 copies of "Strength for Service to God and Country – a devotional book for those in service to others" to the police officers, firemen, EMS and community center workers. All who received them were very grateful for the books.
Also, we need to remind you that the town of West is not receiving any more donations. The generosity of our fellow Texans and folks from all over the U.S.A and world has literally over-whelmed the town. They have run out of places to store all the clothes, bedding and other non-perishable donations. And they have more food than they could ever eat before it spoils. The best way for you, your church or small group to give is through our conference at this point so that we will be able to buy the supplies we need for the rebuilding of family homes in West.
And as always, please pray without ceasing.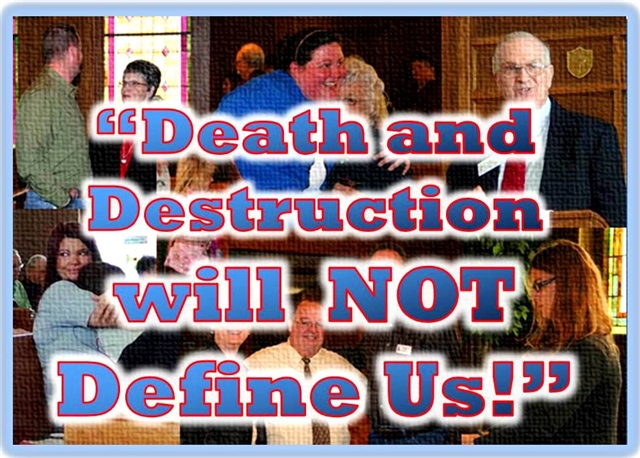 The First United Methodist Church of West Exemplifies Christian Love and Action
5:
55 p.m., April 22
– The mood and expressions of those filling the pews of the nearly 120-year-old
First United Methodist Church of West
Sunday morning could have been described as that of a people still in shock or mourning – at least to someone visiting for the first time. Such a perspective, while understandable and probably even accurate on some levels, was quickly proven to be mistaken. During the course of the morning service and in conversations following, West FUMC proved to be a congregation dealing with the tragedy that has befallen its community with a peace and strength that comes from an unshakeable faith in the goodness and mercy of God. To read the full story of how FUMC West is showing the community and the world that It is Well with the Souls of West, click here.
Early Response Team & Volunteers in Mission Training Available Soon
from Rev. Kyland Dobbins, CTC Mission Experience Coordinator
2:30 p.m. April 22 - The Central Texas Conference's Early Response Team (ERT) is a disaster response ministrythat trains individuals and teams to respond to disasters within the conference, the country and the world – pretty much any location dealing with disaster. The mission of our conference's ERT is to provide a caring presence in the aftermath of a disaster under very specific guidelines. The proven and effective guidelines enable a team to be productive and caring without being a burden to the affected community. At this time, Rev. Laraine Waughtal, CTC Disaster Response Coordinator, is in West, Texas, organizing and preparing for our trained and badged ERT workers to arrive.
Another way that the good people of the Central Texas Conference can assist in times of tragedy is through United Methodist Volunteers in Mission (UMVIM). UMVIM team leaders are trained to organize teams for various mission work, such as construction, medical/dental assistance, evangelism, and more. UMVIM teams will be called into West to begin rebuilding as soon as the Early Response Teams finish their preliminary assessment and crisis management duties.
If you are called to be a part of "Christian Love in Action", Central Texas Conference has training classes for Emergency Disaster Response team members and United Methodist Volunteers in Mission Team Leaders coming up in the near future as well as throughout the year. Please click here to register for upcoming Early Response Training. For upcoming United Methodist Volunteers in Mission training for team leaders, click here.
Hallelujah! CTC UMCOR is HERE!
Rev. Laraine Waughtal, CTC Disaster Response Coordinator, shares a few of her encounters and experiences from day 2 on the ground in West.

11:30 p.m., April 19
- Praise God! All the families from the West United Methodist Church have been located and are doing ok. As we celebrate that bit of good news, we also continue to grieve with and pray for the families and the community of West as more bodies have been recovered.
Today has been another day of organizing and preparing our teams to come into the community. The word that the community has received is that it will be another 48 hours before any families can get back to their homes. I also had the privilege of visiting with one of the United Methodist couples today who were in their home in the blast zone when the explosion occurred. Thankfully, they were not seriously injured but their home was destroyed.
As we visited with these "seasoned" adults who have two grown daughters living outside the community of West, we talked about their needs and I explained who I am and what my role is for the CTCUMC. I shared with them that we could help them with anything from clearing debris and helping them find their belongings to covering up areas where they thought they might be able recover their belongings. Their eyes lit up and the husband quickly handed me his card. They told me they were just discussing how in the world they were going to able to move the rubble around to see if they could rescue any of their belongings. It was such a blessing to be able to tell them that is what we could do – that we could help them move the heavy debris and help them find their things.
They said our ERT's were answered prayer! I told them they were now officially our first client! They and their daughters were so appreciative and touched.
Another wonderful experience that occurred amidst the confusion and chaos happened was when I walked into the Red Cross building yesterday. I was wearing our conference t-shirt that said United Methodist in Disaster Response - Central Texas United Methodist Conference. The Red Cross people looked at me and then looked at my badge that says UMCOR (United Methodist Committee on Relief) and Central Texas and one of the Red Cross people through his fist in the air and said, "Hallelujah! UMCOR is here!" He was thrilled because he knew we always responded and we are here to stay.
It has been a humbling and proud moments to represent God, this conference and UMCOR as we continue to help with the people of West. Tomorrow we officially open our agency care center command post so that residents can come in and sign up for help including with our Early Response Teams and Long Term Recovery for rebuilding.
Blessings and thank you to everyone for supporting West, Texas and serving in the future.
A Message to Central Texas Early Responders
from Rev. Kyland Dobbins, CTC Mission Experience Coordinator
6 a.m. April 19
- I know that most of you are anxious about serving those who are facing the disaster of the West, Texas fertilizer plant explosion. However, if you will recall your ERT training, then you know that WE MUST WAIT for the governmental emergency responders to contain and assess the disaster before we can activate. After they are done, then other volunteers can go help. The mayor has said, "Please don't come because we have more than enough help." We must respect that request.
Also, please do not call the pastors in West or surrounding areas with offers of assistance – that is being done by your conference administrative team – as they are being inundated with calls and simply need some time to do their work and care for their community. With that said, please note that after the media moves on and the "disaster junkies" go away, that's when the real work comes in…and the real volunteers like you arrive.
We go in AFTER the emergency phase ends. So, please consider this as a FIRST NOTICE to review your ERT material and dust off your ERT badges. If and when the need arises, we want to be able to respond with those who can stay for 1-5 days at a time. We may need ERT teams as quickly as THIS MONDAY(April 22). If you are willing and available to go, please e-mail me at kyland@ctcumc.org. Also, we will need all of you who are going to West to help in the weeks to come to register at a link that will follow this email on Saturday or Sunday. Please watch your e-mail and the coverage on ctcumc.org for notification as to when that registration is live.
Here is some information that is vital to your efforts as ERTs:
Rev. Laraine Waughtal, the Conference Disaster Response Coordinator, is in constant contact with Pastor Jimmy Samson of FUMC West! She is addressing the needs of his family and church, and she will be our primary point of contact.

VOAD is active in McLennan County and are meeting to effectively respond (Rev. Laraine is going to be present with them Friday)

The cleanup from this will involve clearing home pads, tree debris removal, tarp coverage of windows, doors, and roofs

We have at least 6 churches and facilities in the surrounding area (20 mile radius) that can host/house victims or volunteers, but only 2 of these sites have showers so a connection to the high schools will be crucial

The 3 primary needs are food (mainly non-perishable items), blankets, & baby items (baby food, diapers, clothes, bottles)—ASAP! Secondary needs are cleaning buckets, health kits, and bedding kits. *This could be a project for your churches to be involved without being ERT or VIM trained*

Austin Avenue UMC in Waco has agreed to serve as a collection site for these supplies

St. Andrews UMC-Arlington has agreed to serve as a collection site for these supplies

A volunteer registration site and link to GBGM insurance will be available soon for you and other volunteers who plan to serve in West, TX

PLEASE watch the conference website for developments and updates: www.ctcumc.org and http://ctcumc.org/pages/detail/1487 (directly to mission support information/landing page)

Tell your churches that the ways to be involved are:

Pray – pray for the families, the churches, and city of West

Pay – send a financial gift/donation to the Conference Office made out to: The CTC Disaster Response, and in the memo line: "The City of West"

Prepare – *see # 5*
A Wrap-Up of Day 1 of the West Recovery Efforts
Before turning in and getting a few hours of rest, Rev. Laraine Waughtal, CTC Disaster Response Coordinator, took the time to send in the following summary of the day's events to ctcumc.org
.
11:45 p.m. April 18
- Today, was a long day for the people of West as they continued to wait to hear about missing loved ones and news about their homes, friends and neighbors. Many were in disbelief as they talked about the shock that a fertilizer plant could cause such an explosion. (If you haven't seen any of the video on YouTube, it is pretty powerful – but can be disturbing, so please view with caution) The overall discussion though centered on friends and loved one's they had not heard from. Two families from West First Methodist Church still have not been accounted for at this time and people are still praying for hope.
A good part of the day was spent organizing and preparing for the time that the search and rescue phase would be complete and the recovery work could begin. Rev. Jimmy Samson, pastor, West FUMC, his wife, the church secretary and other church members spent time with me today locating and talking to church members, while trying to make sure everyone was accounted for from the church.
Work was also done with the West Disaster Relief Command Center to see what needs were as of yet un-met and setting up West FUMC to serve as a command center for the Red Cross. A damage assessment was done on the church, and fortunately, a number of broken windows proved to be the buildings main worry. Rev. Kyland Dobbins of the Central Texas Conference Center for Mission Support team and Central District Superintendent Don Scott worked hard all day contacting churches that could serve as storage areas for rebuilding and recovery supplies. They also have made arrangements with several churches to house our volunteers once we are able to begin accepting them into the area.
And the list of those going above and beyond today goes on and on – both here in West and in our district/conference offices and many of the local churches in the area.
We plan to have more information for you Friday regarding the needs of the community and hopefully, some idea as to when CTC ERT's and the subsequently our Volunteers in Missions will be able to enter the area as the volunteer organizations will meet to coordinate their efforts tomorrow (Friday). On Saturday, a command
center will open to begin interviewing clients who need assistance with their homes or other needs.
Thank you for everyone's contributions and prayers and patience.
Situation Update, West, Texas from Don Scott, Central District Superintendent
3:45 p.m. April 18
- I have been in conversation with Jimmy Sansom (pastor at West FUMC), Laraine Waughtal (Conference Disaster Relief Coordinator) and Kyland
Dobbins (Conference Mission Experience Coordinator). At this time, Jimmy and Laraine are in the process of assessing the need, both short term and long term. At present there is no need for persons to come to West. They are still in the search and rescue mode. It will be at least another 24 hours before they are through.
We have begun a relief offering conference wide (see Conference Website). As time passes, there will be other needs. We will advise as those arise. This will be a long term recovery. Please be in prayer for all. Laraine will be updating me soon. As a note, UMCOR has already contacted Bishop Lowry to offer assistance. When Laraine walked in to the Red Cross Center in West, her badge had UMCOR on it. The Red Cross official shouted, "Yes! UMCOR is here!"
With God's strength and resources, together we will be a vital part of the team rebuilding the community.
Specific Prayer Concerns:
Casey and John Nader
(Associate Pastor at Grace, Copperas Cove) on the deaths of two of Casey's uncle's who were firefighters on the scene when it exploded.
Boyce Vardiman
(Retired Clergy) on the death of his nephew who was also at the scene when it exploded.
There will be a Prayer Service tonight, 7:00 p.m. at Central United Methodist Church, 5420 Bagby Avenue, in Waco.
The Carter Blood Mobile will be at First United Methodist Church, Cobbs and Lake Air, Waco, from 8:-12:30 this Sunday, April 21st. The blood mobile will be parked down by the Family Life Center.
Thank you for your prayers.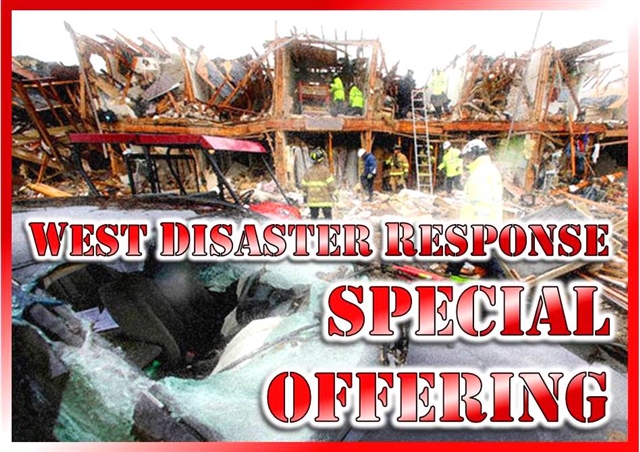 A Special Offering to Support West Relief Efforts Announced
2:30 p.m. April 18
- Bishop Lowry is asking the churches of the Central Texas Conference to receive a special offering in support of the immediate and long-term relief efforts for the community of West following yesterday's catastrophic explosion that rocked the small community just north of Waco. "In the upcoming days we will have an opportunity to live out our faith-based hope through generosity of spirit, time and resources including financial resources," Bishop Lowry said via his This Focused Center blog. "
We are calling on the churches of the Central Texas Conference to receive a special offering for disaster relief in West."
Bishop Lowry praised and thanked the first responders and other support personnel who are currently on the ground in West, but reminded that this will be a long-term recovery project and that the support of the CTC will be needed for months and months to come and in ways not yet realized or imagined. "This is a time to commit in faith for the long haul," Bishop Lowry said. "After the cameras have been turned off and the news reports are stilled, we will remain in service and love to the community of West. "
Central Texans Asked to Respond with Prayer, Patience & Hope
1 p.m. April 18
- Bishop Mike Lowry, episcopal leader for the Central Texas Conference (CTC), is calling on the faithful of the CTC to respond to the tragic events surrounding the fertilizer plant explosion in West, Texas with prayer, patience and hope.
In his most recent t, Bishop Lowry recognized that collectively, this has been "a hard week" – a week that has seen a tragic terrorist bombing in Boston and now the massive explosion in West [and there are reports of tornadoes and flooding in other parts of the country]. "While Boston may be distant," writes Bishop Lowry, "we still reach out instinctively with our prayer and our care. The town of West is in the heart of our Conference. This tragedy is close to home and touches our lives much more intimately. Here too we reach out with the love and care of the gospel of our Lord Jesus Christ."
"First, foremost and always, let us be a people who place our lives and the lives of our loved ones before God in trusting prayer," stated Bishop Lowry. "Rememb
er the promise of God: 'Don't be anxious about anything; rather, bring up all of your requests to God in your prayers and petitions, along with giving thanks. Then the peace of God that exceeds all understanding will keep your hearts and minds safe in Christ Jesus.'" (Philippians 4:6-7 CEB)
Patience is also key in responding well to the early stages of a catastrophe like this. After having discussions with conference members and leaders on the scene and reviewing the requests of officials in West, Bishop Lowry strongly reinforced the message of area officials that, besides prayer, the best way anyone can immediately assist in the recovery efforts is to exercise patience and stay away from the area. The community of West has all the emergency responders it can use at the moment. Officials continue to assess the needs and once those needs are identified, they will be communicated and appropriate responses will be activated at that time.
"We give thanks for first responders and other early responders who are immediately engaged. This is a time to commit in faith for the long haul. After the cameras have been turned off and the news reports stilled, we will remain in service and love to the community of West. In the ensuing days, weeks and months, needs will emerge that call for our action."
And finally Bishop Lowry stressed the need to keep hope in our hearts. "In the upcoming days we will have an opportunity to live out our faith-based hope through generosity of spirit, time and resources including financial resources."
Bishop Lowry also announced that he is calling on all the churches of the CTC to receive a special disaster relief offering for the community of West as they are able. Offerings should be made to Central Texas Conference Disaster Response, with The City of West noted on the donation. Other ways to offer support are through UMCOR and The Red Cross. As the full scope of the need unfolds, the Central Texas Conference will response with further specific calls for help as needed.
Please visit to read the complete Faith Facing Tragedy blog post.
Since it is typically the first reaction of the members of the Central Texas Conference to want to assist our brothers and sisters in their time of need, it is important to remember that at this time officials on the scene are reporting that they have plenty of first responder assistance on the scene. People are asked to NOT come to West. In fact, residents of the area are still being evacuated due to health concerns from the possible ammonia fumes pouring from the still raging fire at the plant. Officials are reporting that if anyone feels called to help immediately, the best thing that they can do is visit their local blood bank and donate a pint of blood. For folks in the Waco area, you are asked to go to Carter and Scott & White Blood Centers.