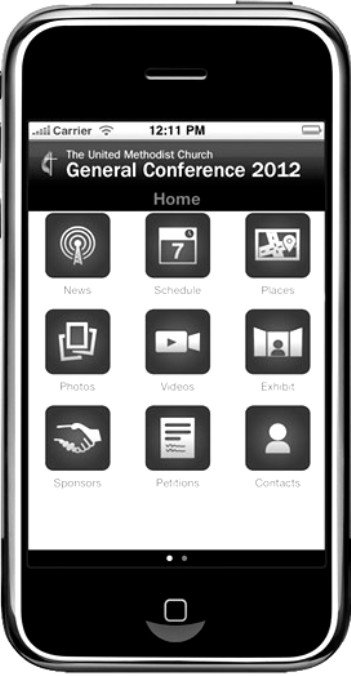 by Vance Morton* and Diane Degnan**
Those interested in following the 2012 General Conference of The United Methodist Church while on the go can now do so thanks to a new, free mobile app from United Methodist Communications. Mobile device users employing the iOS (iPhone, iPad, iPod, iPopular, iEtc.) and Android platforms can download the app from the iTunes App store, Google Play (formally the Android Market) – just search for United Methodist General Conference – or by visiting the umc.org General Conference Mobile App page.

The app was developed in order to give users instant access to General Conference information without the need for a computer and Internet connection. Features of the mobile app include scheduling, legislative tracking, a map of the Tampa Convention Center and surrounding areas, information about display areas, news, photos and videos.

"Where Internet access is limited, the mobile app makes General Conference more accessible," said the Rev. Larry Hollon, chief executive of United Methodist Communications. "It also provides greater convenience and relevance for those on the go, ensuring that all United Methodists and those outside the connection that are interested, no matter their location, have up-to-the-minute information as it unfolds at General Conference 2012."

Also, if you missed it late last fall, a separate United Methodist app was released in October with daily devotions, news, videos, photos, social media sites and a searchable index of United Methodist churches by geographic area.
*Vance is the Director of Communications & IT for the Central Texas Conference. vance@ctcumc.org
**Diane is a member of the United Methodist Communications team in Nashville, TN. ddegnan@umcom.org