by Julian Hobdy
Digital Media Coordinator
Central Texas Conference Service Center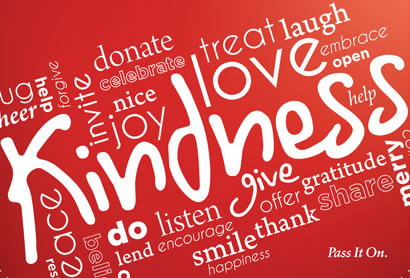 Every now and again, we find ourselves in the throes of situations that, through no fault of our own or without our instigation, land right in our laps, or in this case, at our front door. A few months ago, a woman was involved in a pretty ugly accident right in front of our building. No one was hurt, but I believe the police declared her at fault. She was in her early 70s, yet this was her first car accident, and she was clearly devastated. 
As tragic and traumatic as that is, a glimmer of hope and inspiration emerged from the wreckage. Several members of our staff rushed to aid everyone who was involved. The woman and her husband live in the neighborhood across the street from our building, so I went her home to retrieve her husband. Other team members went to check on her and on the other party involved in the accident; some called 911.
I recall going to her home, which was teeming and bustling with contractors, and when I told her husband that his wife was okay but was involved in an accident just down the street, his face immediately flushed.  He ran out the door to his truck to attend to his bride. It was a difficult time for everyone involved.
This morning she stopped by. With tears in her eyes, a heart full of gratitude and doughnuts in tow, she came to thank us for being friends in a time of trouble. Her words to our front desk attendant were, "If you are going to have an accident, its best to have one in front of God's people." This, in a nutshell, really illustrates our story. In a time of great chaos and turmoil, decay and destruction, Christ injects Himself into our situations.
He invades our lives and offers support, help, comfort and mercy. He attends to our needs and calls in the "Helper." Did you know the Greek word used to describe the Holy Spirit as the "Helper" or "Advocate" or "Comforter" is "parakletos?" The word itself is a compound word.
"Para" is a prefix appearing in loanwords from Greek, most often attached to verbs and verbal derivatives. It means "alongside or to one side of, beside or side by side." "Kletos" means "called or summoned." In the most literal sense, "parakletos" means called or summoned alongside.
Christ calls us to a mission, and He illustrates it very well in his parable of the Good Samaritan. He urges us to be merciful and compassionate to those we come across who are in need. When we have the means and opportunity to serve, and we find ourselves in circumstances where someone is need, we find both a neighbor and an opportunity to build the Kingdom.
That being said, we enjoyed the doughnuts our neighbor brought us, and as we savored the buttery, doughy goodness, we were reminded that we are all called to mission, and sometimes that mission lands right at your front door! Blessings to you!
 The Parable of the Good Samaritan Luke 10:30-37
30 Jesus replied, "A man went down from Jerusalem to Jericho. He encountered thieves, who stripped him naked, beat him up, and left him near death. 31 Now it just so happened that a priest was also going down the same road. When he saw the injured man, he crossed over to the other side of the road and went on his way. 32 Likewise, a Levite came by that spot, saw the injured man, and crossed over to the other side of the road and went on his way. 33 A Samaritan, who was on a journey, came to where the man was. But when he saw him, he was moved with compassion. 34 The Samaritan went to him and bandaged his wounds, tending them with oil and wine. Then he placed the wounded man on his own donkey, took him to an inn, and took care of him. 35 The next day, he took two full days' worth of wages and gave them to the innkeeper. He said, 'Take care of him, and when I return, I will pay you back for any additional costs.' 36 What do you think? Which one of these three was a neighbor to the man who encountered thieves?" 37 Then the legal expert said, "The one who demonstrated mercy toward him." Jesus told him, "Go and do likewise."